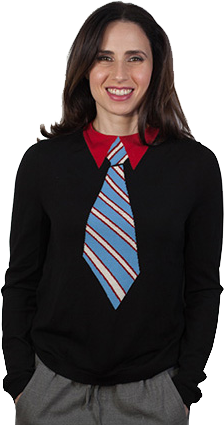 Dr. Sara is a hospital and university trained specialist in pediatric dentistry. With over 20 years of experience, she has the unique qualifications to treat your child in the most professional, yet friendly manner. She continues to update her techniques building on her vast knowledge in the field of pediatric dentistry, not relying on current fads. She is conversant on the most advanced treatment that are scientifically based and clinically proven. Most importantly, Dr. Sara will personally greet and treat your child and personally discuss optimal care for your child. Dr. Sara Babich was fortunate to realize early on her career that treating the pediatric population was a natural fit for her. This allowed Dr. Sara to incorporate her artistic and whimsical talents with the precision and fine detail required in Pediatric Dentistry. Her rapport and ease in speaking with children and parents make the dental visit a comforting one for the child and parent alike.
Dr. Sara completed both a general practice residency and pediatric dental specialty residency in major New York teaching hospitals. She has published several papers in peer reviewed journals. She is currently an Attending with operating room privileges at Lenox Hill Hospital. This is especially helpful for the treatment of children with speciali needs who may require anesthesia for dental procedures.
Dr. Sara is a member of many advanced dental study club groups including being a past president of the Dental Study Club of New York, as well as being inducted into the prestigious New York Academy of Dentistry. She is a member of the American Dental Association, the American Academy of Pediatric Dentistry, the New York Dental Association, and the New York County Dental Society.
About Pediatric Dentistry: Dr. Sara B. Babich, DDS:
Located on Upper East Side, NYC pediatric dentist Dr. Sara Babich is serving Manhattan and New York City in NY. As a leading pediatric dentistry specialist, Dr. Babich provides the most technologically advanced, safest and time-tested dental treatments for kids and teens.
Pediatric Dental Center in NYC led by the best in class kids dentist Dr. Babich, who is a university and hospital trained in pediatric dentistry. She is committed to providing a comprehensive dental treatment for infants, children, adolescents and special needs kids.
Our New York City children's dentistry practice has been welcoming young patients for two decades. Our kids dental center is designed to create a zone of comfort, safety and fun. The goal is for your child to have a visit that is fun, warm and inviting; an anxiety-free experience.
Come see our new cutting edge kids' dentistry center in Manhattan for highly effective dental care. Individual, personalized attention and excellent pediatric dentistry are the hallmarks of our dental office.
If you have any questions or would like to schedule an appointment, visit our NYC kids dentistry center or call Upper East Side pediatric dentist Dr. Babich at (212) 988-4070.
Nearby Locations:
Carnegie Hill | Yorkville | Lenox Hill | Upper East Side | Midtown Manhattan
10029 | 10028 | 10021| 10044, 10065, 10075, 10128 | 10022
Working Hours :
Monday: 9AM–6PM
Tuesday: 9AM–6PM
Wednesday: 9AM–6PM
Thursday: 9AM–6PM
Friday: 9AM–4PM
Saturday: Closed
Sunday: Closed
Payment: cash, check, credit cards.
Keywords: pediatric dentistry, pediatric dentists, pediatric dentist, pediatric urgent care, kids dentists, kids dentist, pediatric dentist manhattan, pediatric dentistry manhattan, pediatric dentist upper east side, best pediatric dentist nyc, pediatric dentistry upper east side, best pediatric dentist, pediatric dentist in nyc, pediatric dentist nyc, nyc pediatric dentist, pediatric dentists in nyc, nyc pediatric dentists, pediatric dentists nyc, pediatric dentistry in nyc, nyc pediatric dentistry, pediatric dentistry nyc, nyc kids dentist, kids dentist nyc, nyc kids dentists, top pediatric dentist nyc, top pediatric dentist, toddler dentist, kids dentist in nyc, kids dentists in nyc, teeth cleaning, dental sealants, fluoride treatment, fluoride treatment for kids, kids cavity treatment, special needs kids dentist, special needs pediatric dentist.
Pediatric Dentistry: Dr. Sara B. Babich, DDS
116 E 84th St,
New York, NY 10028
(212) 988-4070
e-mail: info@nycpediatricdentist.com
https://www.nycpediatricdentist.com/
https://twitter.com/drsara_smiles
https://www.instagram.com/drsara_smiles/
https://www.youtube.com/channel/UCNv5YOE5zWB69mqYJSGou5g
https://nycpediatricdentist.tumblr.com
https://www.pinterest.com/nycpediatricdentist
https://www.caredash.com/doctors/sara-babich-lgrgz
View other locations Pediatric Dentistry: Dr. Sara B. Babich, DDS has been mentioned
doctor.com
yellowpagecity.com
merchantcircle.com
http://maps.google.fi/url?q=https://www.nycpediatricdentist.com/
Zocdoc helps you find and book top-rated doctors, on demand. Visit them in their offices, or video chat with them from home.
Check out doctors in your area
.