51 East 25th Street, New York, New York 10010
51 East 25th Street, New York, New York 10010
983 Park Avenue, New York, New York 10028
LGBTQ Competency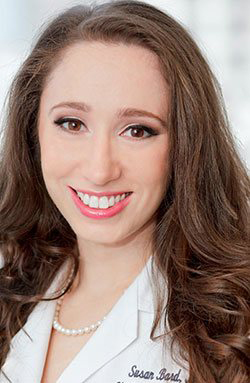 Leading dermatologist and varicose vein specialist Susan Bard, MD is a board certified general and procedural dermatologist with the American Board of Dermatology and a fellow of the American College of Mohs Surgery.
Dr. Bard is a native of New York City. She received her medical degree from the State University of New York – Downstate, where she graduated top of her class and was elected to the prestigious national medical honor society, Alpha Omega Alpha. Following medical school, she completed an internship in internal medicine at The Mount Sinai Hospital in New York City and a dermatology and cutaneous surgery residency at the University of Miami where she received extensive training in medical, pediatric, cosmetic and surgical dermatology.
Dr. Bard also completed a clinical research fellowship in Pediatric Dermatology under the mentorship of Dr. Lawrence Schachner, department chairman at the University of Miami as well as a Procedural Dermatology Fellowship at Skin Laser and Surgery Specialists in New York where she further trained in Mohs micrographic surgery and reconstruction, as well as laser and cosmetic surgery.
Dermatologist and NYC doctor for varicose veins Dr. Bard has presented at several national conferences and has written numerous book chapters and articles published in many prominent peer-reviewed journals including:
The Journal of the American Academy of DermatologyArchives of DermatologyPediatric DermatologyJournal of Investigative Dermatology
Her professional interests include Mohs micrographic surgery, as well as cosmetic and laser procedures and she has recently authored a textbook entitled "The Laser Treatment of Vascular Lesions".
Dr. Bard is one of the best vein doctors and leading dermatologist in New York and has a unique ability to set her patients at ease. Her warmth, compassion and delicate touch make her an ideal physician and surgeon for even the youngest or most apprehensive patient. Your vein doctor stays current on cutting-edge treatments to find the most effective treatment for you. Additionally, as one of New York's leading vein doctors, Dr. Bard is a skilled laser vein doctor who can combine the best services to help you reach your goal.
Dr. Bard is licensed to practice medicine in the state of New York and Florida. Specializing in the field of Dermatology and Varicose Veins Treatment, Dr. Bard is prepared to care for patients with various skin, nail and hair disorders including acne, eczema, psoriasis, warts and skin cancer, among many others. As a veins doctor, she specializes in various varicose and spider veins, venous skin ulcers, bulging veins on hands and feet, facial veins, venous insufficiency, and venous stasis ulcers. Dr. Bard, the top vein specialist in NYC can also provide you with information on preventing vein problems from recurring.
Professional Memberships:
American Board of Dermatology
American Academy of Dermatology
American College of Mohs Surgery
American Society for Laser Medicine and Surgery
American Society for Dermatologic Surgery
About Manhattan Dermatology Specialists:
Manhattan Dermatology is New York's top rated Dermatology Practice.
Best rated dermatologist in NYC Dr. Susan Bard provides treatment for a full range of dermatologic ailments including acne, rosacea, eczema, psoriasis and warts. A wide variety of cosmetic procedures such as Botox, dermal filler, laser skin tightening, acne scar treatment and stretch mark treatment are offered using the latest techniques and technologies available in USA.
As a best in class, top rated NYC dermatologist, Dr. Bard provides highly personalized and comprehensive care. Dermatologist Dr. Bard has presented at several national conferences and has written numerous book chapters and articles published in many prominent peer-reviewed journals including The Journal of the American Academy of Dermatology.
Best rated Dermatologist in NYC, Dr. Susan Bard received the Award for Excellence in Dermatology Internationally recognized as one of America's Top Dermatologist and among the best Dermatology doctors in the country, Contributor to a multiple of industry top dermatology citations.
New York Presbyterian Hospital Weill Cornell Medical Center
The Mount Sinai Hospital
Northwell Health Northshore LIJ
For more information or to schedule an appointment with the one of the best rated NYC Dermatologist (Laser Cosmetic Dermatology of NYC), Dr. Bard of Manhattan Dermatology Specialists please contact our Midtown NYC office by number +1 (212) 427-8761.
Procedures:
Age Spot Removal
Bruise Treatment
Botox
Cellulite Removal
Cellulite Treatment
Cortisone Shots
Genital Warts Treatment
Glycolic Acid Peel
Mole Removal
Photodynamic Therapy
Melasma Treatment
Roscea Treatment
Seborrheic Dermatitis Treatment
Scar Removal
Stretch Mark Removal
Skin Tag Removal
…and more
Working Hours:
Monday: 8:00 am – 6:00 pm
Tuesday: 8:00 am – 6:00 pm
Wednesday: 8:00 am – 6:00 pm
Thursday: 8:00 am – 6:00 pm
Friday: 8:00 am – 6:00 pm
Saturday:CLOSED
Sunday:CLOSED
Payment:
cash, check, credit cards
Manhattan Dermatology Specialists
51 East 25th Street, Ste 411,
New York, NY 10010
+1 (212) 889-2402
https://www.manhattandermatologistsnyc.com/
https://plus.google.com/115136046978693372813
https://www.facebook.com/Manhattan-Dermatology-Specialists-778887292264298/
https://twitter.com/DrSusanBard
http://manhattandermatologistsnyc.tumblr.com/
https://www.instagram.com/thedermdiva/
http://www.youtube.com/channel/UCz4SnjK6m9i1eglXENTRv1g
https://www.flickr.com/people/147877553@N07/?rb=1
https://www.linkedin.com/company/manhattan-dermatology-specialists/
https://doctor.webmd.com/doctor/susan-bard-md-12051a8a-b798-43ff-80f1-47668bba5b42-overview?lid=5113170
Keywords:
dermatologists nyc, dermatology nyc, dermatologist nyc, manhattan dermatology, manhattan dermatologists, manhattan dermatologist, Age Spots, Bruises, Cellulite, Genital Warts, Melasma, Rosacea, Red Dots on Skin, Acne, Acne Scars, Seborrheic Dermatitis, Scars, Spider Veins, Stretch Marks, Skin Discoloration, Skin Cancer, Sun Damage, Psoriasis, Plaque Psoriasis, Scalp Psoriasis, Age Spot Removal, Bruise Treatment, Botox, Cellulite Removal, Cellulite Treatment, Cortisone Shots, Genital Warts Treatment, Glycolic Acid Peel, Mole Removal, Photodynamic Therapy, Melasma Treatment, Roscea Treatment, Seborrheic Dermatitis Treatment, Scar Removal, Stretch Mark Removal, Skin Tag Removal, Tattoo Removal, Intense Pulsed Light, Keratosis Pilaris, Wart Removal, Acne Treatment, Acne Scar Treatment, Psoriasis Treatment
About Varicose Vein Treatments Center:
NYC vein center is New York's top rated varicose vein treatment clinic.
Dr. Susan Bard is a doctor for varicose veins, a vein specialist who treats all vein disorders including varicose veins, venous insufficiency & ulcers, bulging hand veins and spider veins. Vein doctors who are varicose veins specialists and cosmetic practitioners are a breed above the rest.
As a NYC vein specialist, Dr. Bard provides you with the latest, state-of-the-art varicose vein treatments including laser treatments, radiofrequency ablation, ambulatory phlebectomy and a cutting-edge VenaSeal. Located in Midtown NYC, in the heart of New York City, the Manhattan Vein Specialists center boast certified and approved vein treatment facilities.
Vein treatments at Manhattan Vein Specialists are safe, affordable and effective. When you visit an experienced vein specialist in NYC, you should expect no less than a thorough examination, a quick diagnosis and a wide range of advanced treatment options. You do not have to live with unsightly or painful veins now that you found the best vein doctor in Manhattan.
Make a same day appointment with the best vein specialist in NYC by the number +1 (212) 389-1326.
Payment: cash, check, credit cards.
Working Hours:
Mon: 08:00 AM – 7:00 PM
Tue: 08:00 AM – 7:00 PM
Wed: 08:00 AM – 7:00 PM
Thu: 08:00 AM – 7:00 PM
Fri: 08:00 AM – 5:00 PM
Sat: Closed
Sun: Closed
Varicose Vein Treatments Center
Midtown office:
51 East 25th Street, Ste 432
New York, NY 10010
(212) 389-1326
Upper East Side office:
983 Park Avenue, Ste 1D12
New York, NY 10028
(212) 389-1333
https://www.varicoseveinscenternyc.com
https://www.facebook.com/Varicose-Vein-Treatments-Center-430828910844606/
https://twitter.com/treatments_vein
https://www.linkedin.com/company/varicose-vein-treatments-center
https://www.instagram.com/varicoseveincenter/
https://www.youtube.com/channel/UCLpbB9_IGgfDoTQPlY5AhcQ/about
https://varicoseveinscenternyc.tumblr.com/
https://www.pinterest.com/varicoseveinscenternyc
https://www.yelp.com/biz/varicose-vein-treatments-center-new-york-4
Find us at: findatopdoc.com
Keywords: veins treatment center, veins treatment center NYC, vein treatment center NYC, NYC vein treatment center, vein center, vein center NYC, NYC vein center, vein treatment center New York, New York vein treatment center, the vein center, vein treatment center nyc, varicose vein center, varicose vein center NYC, vein treatment center Manhattan, Manhattan vein treatment center, varicose vein treatment centers, laser vein removal centers,laser vein removal centers in NYC, vein clinic, new york vein clinic, Manhattan vein clinic, NYC vein clinic, vein clinic NYC, vein clinic in nyc, vein and laser clinic, NYC vein and laser clinic, varicose vein clinics, NYC varicose vein clinics, varicose vein clinic, NYC varicose vein clinic
clinic for varicose veins, NYC clinic for varicose veins, clinics for varicose veins, sclerotherapy clinic, spider vein clinic, leg vein clinic, NYC leg vein clinic, hand vein clinic, hand vein clinic in NYC, vein specialist, vein specialist NYC, spider vein NYC, vein specialists, NYC vein specialists, varicose vein specialist, varicose vein specialist in NYC, vein doctors, vein doctors in NYC, vein doctors NYC, NYC vein doctors, vein doctor, NYC vein doctor, varicose veins removal, varicose veins removal NYC, varicose vein treatment, varicose vein treatment in NYC, varicose veins NYC, phlebotomy varicose veins, phlebotomy varicose veins NYC, varicose vein ulcer treatment, varicose vein ulcer treatment NYC, varicose vein removal NYC, laser ablation for varicose veins, vein treatment, vein treatment NYC, vein treatment New York, vein treatment in New York, vein removal nyc, NYC vein removal, laser vein removal NYC, NYC laser vein removal, laser vein treatment NYC, best vein treatment NYC, NYC best vein treatment, best varicose vein treatment NYC, NYC best varicose vein treatment, phlebectomy, phlebectomy NYC, NYC phlebectomy, phlebotomy, phlebotomy in NYC, phlebotomy varicose veins in NYC, phlebotomy varicose veins, micro stab phlebectomy, micro stab phlebectomy NYC, red vein treatment for face, facial vein treatment, veins on face treatment, hand vein treatment, NYC hand vein treatment, hand vein removal, NYC hand vein removal, vascular doctor, NYC vascular doctor